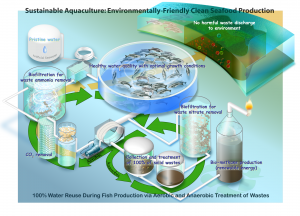 The farming of aquatic/marine organisms in controlled environments, coupled with effective stock management efforts, are needed to satisfy the world's growing consumer demand for fisheries products and to reverse the U.S. fisheries trade deficit. In addition, the health and safety of the end-user and the environment rely upon aquaculture and fisheries management strategies that emphasize sustainable and biosecure approaches for seafood production. In order to manage, restore, enhance, and manipulate marine species, DMB scientists are generating a deeper understanding of fish/shellfish biology including reproduction/endocrinology, development/growth and health/disease. Both commercially significant as well as well-established model species (such as zebrafish) are used for these studies.  Increased understanding of fish/shellfish biology coupled with mariculture technological innovation will facilitate the advancement of intensive, cost-effective, and environmentally sustainable aquaculture, as well as successful stock restoration strategies. With algae considered a promising source of feeds and fuels, the program also emphasizes algal research.
The Aquaculture and Fisheries Biotechnology Program at DMB aims to improve seafood and algal production, as well as fisheries resources, through the study of fish/shellfish/algal biology and aquaculture technology. Although cognizant of global issues, DMB places particular emphasis on improving yields, performances and competence of Maryland (Chesapeake Bay) and US fisheries and aquaculture.
The Aquaculture and Fisheries Biotechnology Program includes research in fin fish and shellfish reproductive endocrinology, pathology, virology and vaccine development, environmentally sustainable marine aquaculture, stock restoration and algal aquaculture and biotechnology.